2002 December
March 17, 2005
GETTING TO KNOW YOU . . .

We asked some members of NeASFAA the following question:
"What is your New Year's Resolution and how are you going to make it come true or tell us about a past New Year's Resolution and how you made it come true?"
Terri Graham from Hastings College said, "I don't usually do New Year's Resolutions because I hate starting out my year with a guilty conscience. If I were a resolution maker though, I would resolve to keep my mouth shut a little longer. It's amazing what comes to the surface if you let it, but I usually can't stand the silence and am too busy blabbing to hear what others have to say. So that's it...I'm going to wait a while before I throw my two cents in".
Sherry Douglas from Chadron State College wants to send her family and friends their birthday cards on their birthday. No more belated wishes! She says, "I always have them in my thoughts and there's a drawer full of cards to prove it. But, somehow I never get them mailed on time or I'm too embarrassed because I'm late."
Steve Carper from Omaha School of Massage Therapy has the following New Year's resolution; "To obtain a new job at either a 2 year or 4 year school." How does he plan on obtaining this? "Put my name out there and keep my ears open." On a lighter note, he also wants to improve his golf game and he plans on doing this by practice, practice and more practice. Good luck!



GETTING TO KNOW YOU . . .
Which NeASFAA member has won five state championships in track and field? Who has coached many more state champions and two Olympians - one a gold medalist? Which NeASFAA member has played basketball in Maui with Magic Johnson and Jerry West? Who has climbed a mountain in Germany spur of the moment and barefoot nonetheless? Can you believe that the same person accomplished all of these?!?
Even if you have already met Susie McCowen, NeASFAA newcomer and Regional Director at College Loan Corporation, you are sure to learn something new about this truly interesting and inspirational person!
Susie grew up in Oakland, Iowa which is just 22 miles east of Council Bluffs. Susie has one sister who teaches elementary school in Avoca, Iowa. Her brother is a commanding officer of an MP unit and is currently serving his country in an undisclosed location. Between her brother and sister, Susie has seven nieces and nephews, whom she endearingly refers to as the Magnificent Seven.
Like many people, Susie never imagined she would be working in financial aid. Her dad was a high school guidance counselor and Susie remembers going to people's homes to help them with their financial aid paperwork, so maybe she was being trained for this all along! After graduating from high school, Susie attended Iowa State University where she majored in Biology. She graduated from Iowa State University in 1989 and taught high school biology in Kansas City for two years. Susie returned to Iowa State and continued to teach college level biology while she was a psychology graduate student.
It was during this time that the riots in Los Angeles began. Susie had taught in an inner city school and she felt very passionate about helping the community heal. On her 26th birthday she felt a strong desire to move to Los Angeles and help with whatever she could. She listened to her inner voice, sold everything she owned, and moved to Los Angeles. Susie started volunteering and doing all of the community work that she could. She lived at the corner of Crenshaw and Martin Luther King Boulevard, in the heart of South Central L.A. To give you an idea of where this is, most of the movie Boyz in the Hood was filmed on Susie's street.
After her four-year stay in L.A. Susie moved south of San Diego where she started her financial aid career. Susie had received a call from the President and CEO of College Loan Corporation requesting her to come and help start up the company. Susie was up for the challenge. She was also excited when she had the opportunity with College Loan Corporation to move back to the Midwest.
Most of Susie's free time is consumed by being the ultimate aunt! She tries to keep up with all of her nieces' and nephews' ball games, concerts and babysitting needs. In addition to all of that she also enjoys yoga and playing basketball.
This is Susie's first year as a NeASFAA member, but already she feels at home. What she likes most about NeASFAA is how open and friendly all of the members have been to her. Susie looks forward to getting to know more people and becoming more involved in NeASFAA!
FROM THE PRESIDENT
by Vicki Kucera

In preparation for writing this letter I started making notes about what our organization has accomplished so far this year, and the notes that are looking back at me impress me a lot!!!
We've certainly been busy boys and girls this year. The Professional Development Committee put together a great Support Staff Workshop on October 11th at Midland Lutheran College in Fremont. A big thank you to Doug and Michele for being such great hosts! Then the PDC turned around and gave us a fantastic Fall Institute at the Embassy Suites in Lincoln. Not only did we once again get a great program, we proved once again that when financial aid folk get together we know how to party! A big thank you also goes to Terri Graham and her committee for their hard work this year.
Our ad hoc Reauthorization Committee, under the guidance and expertise of our very own Tom Melecki, put together a position paper that is now the envy of the other states in our region. It was sent out to all of our Congressional representatives as well as to appropriate education committee chairs and ranking minority members. I have had several responses from Congressional representatives acknowledging receipt of the paper assuring us that our recommendations will be taken into consideration as Congress goes through reauthorization. I am confident that the work of the committee will not have been in vain.
Work has already begun on the 2004 RMASFAA Fall Conference which will be held at the Embassy Suites in Omaha October 15-18. Judy Walker and Jodi Vanden Berge will co-chair this special event and will no doubt be seeking help from our membership. I ask that you be as generous as you can with your time when they come calling.
The committee reports you will see in this newsletter will outline all of the other outstanding work our membership has been doing. I thank you all for your labors and appreciate the time you give to the association in spite of your busy schedules.
I wish all of you a very Merry Christmas and pray that all of you and your loved ones stay safe and happy throughout the season!
CALLING ALL VOLUNTEERS!

Just a reminder that now is the time to volunteer for a NeASFAA Committee for 2003-04. The Volunteer Form can be found in the "Member Notes and Info" section of the NeASFAA website. Please consider how you're able to serve NeASFAA and complete the Volunteer Form by Friday, December 20th. All volunteers will be placed on a committee! If you have any questions, please contact Deana Unger at dunger@unl.edu.



2003-2004 NeASFAA Election Results


President-Elect: Shirley Huttenmaier
Secretary: Michelle Reeson
Four-Year Public Sector Representative: Kay Dinkelman
Four-Year Private Sector Representative: Amy Lyons
Two-Year Public Sector Representative: Steve Millnitz
Private/Career Sector Representative: Bobbi Pettinger
Associate Sector Representative: Tammi Preston



Four Year Private Sector
by Dean Obenauer
Four year private schools took the opportunity to meet during the Fall Institute in Lincoln. Tip O'Neil, President of the Association of Independent Colleges and Universities of Nebraska, met with us. With the State of Nebraska facing a major budget shortfall, higher education funding is on the chopping block. Tip will be providing us with a fact sheet to assist us in writing letters to the legislature. It is important that students and their parents also get involved in this process.
Another concern discussed was scholarship scams and how we and high school counselors need to again be on the lookout. We also talked about PLUS and alternative loan packaging philosophies and what works and hasn't worked in the past.
Before we knew it, we ran out of time, so we'll meet again during the spring conference. If you have any concerns or issues that the four year private schools need to be aware of, please let me know at obenauer@creighton.edu. Happy Holidays!



PROFESSIONAL DEVELOPMENT
by Terri Graham
Support Staff Workshop
October 11 marked the swarming of many busy bees to their temporary hive in Fremont on the bee-utiful Midland Lutheran campus. The 2002 Support Staff Workshop theme was "Bee All You Can Bee." Our very own NeASFAA Queen Bee, Ms. Vicki Kucera, was present to welcome the assembly. Dr. Tom Melecki began the learning experience with an informative talk called "What's the Buzz on Reauthorization." Ritchie Morrow and his very lovely helper bees led the hive in an exciting Jeopardy-like game called "Buzz-In" that helped us polish our financial aid expertise. After lunch and campus tours, Kelly Parr provided a lesson in personal fitness with a session titled "Be a Healthy Bee." In addition to all the valuable information on diet and exercise, Ms. Parr, from First National Bank of Omaha, provided pedometers to each participant. The NeASFAA Awards Committee distributed certificates to acknowledge years of service to the participants present. The generous sponsors of NeASFAA once again provided a fabulous assortment of goodies in the treat bags that went home with everyone. The PDC hopes that all who attended the workshop found it to be a worthwhile experience.
NeASFAA's Fall Institute
The hotel staff at the Embassy Suites in Lincoln might have been a bit nervous when they realized they were being overrun with bugs from NeASFAA. "A Bug's Life" was the theme for the Institute and indeed, we were crawling with critters during our day and a half of sessions, meetings, panels and speakers. The NSLP Update and RMASFAA Decentralized Training were held prior to the Fall Institute. Keynote speaker Aaron Davis set the mood right with an uplifting opening talk called "Buzzing with Enthusiasm." Many thanks to all the NeASFAA members who helped with the Fall Institute program: the panelists, Jenny Mosher, Kyle Rose, Pam Shelton, and Mary Sommers, and also presenters, Rick Johnson from NSLP and Tim Bornemeier from Nelnet. We are fortunate to have so many members willing to share their experiences and knowledge for the sake of the Association! Other speakers at the Institute included Dr. Gene Koepke, Sheila Kepler, and Senator Ed Schrock. Thursday night's event at Old Chicago provided a relaxed atmosphere to visit, network and eat and eat and eat. Friday morning sector meetings provided further opportunity to exchange ideas with creatures of our own kind. As usual, the Institute ended at noon on Friday after brunch. The Professional Development Committee will use your input from the evaluation forms to help plan future events. Your ideas are necessary and welcome! We have already begun to scheme for Spring Conference to be held at the Holiday Inn in Grand Island. Mark your calendars now for April 9-11, 2003.


Decentralized Training
by J. Ritchie Morrow
On November 6 and 7, 61 NeASFAAites participated in Decentralized Training at the Embassy Suites in Lincoln. As in the past, this training was held in conjunction with NeASFAA's Fall Institute.
Our two trainers, Rev. Don Flaherty of Trinity Bible College in North Dakota and our own Shareen Cundall from Doane College, informed us how to use nonfederal programs in our packaging principles, good practices and ethical issues we should all use and follow, IRS educational provisions such as 529 plans, and how we should all keep our policies and procedures manual updated.
Along with the good information that we received from our presenters, many participants appreciated the opportunity to discuss how others handle the many different situations that were discussed. All in all a lot of good information was received and shared.



FINANCE AND AUDIT COMMITTEE
by C. J. Thoma
On August 8, 2002, the Finance and Audit Committee met at UNK to conduct the annual audit and discuss several items. Kyle Rose is (of course) doing a wonderful job as the Association's Treasurer. We appreciated Kyle driving down to Kearney to participate in the audit. We also want to thank UNK for lending the Committee office space to conduct the audit and hold our meeting. The Committee members worked on several initiatives as outlined below.
Development of an Audit Guide – the Committee designed and developed an Audit Guide to aid in the annual audit. It documents the process on how to conduct the audit for Finance and Audit Committee members. It also provides the Treasurer with a list of items to be reviewed, enabling the Treasurer to be prepared for the audit.
Presentation of the Annual Audit Report – the Committee presented the Board of Directors with the annual audit report and offered recommendations for financial tracking.
Mileage Policy – the Board of Directors requested that the Finance and Audit Committee draft a mileage policy (as recommended by the AGC) for the Board's consideration. The policy was discussed at the last meeting but the policy was tabled until the January meeting. The Committee will be sending a survey via the NeASFAA listserv to our members in order to determine need and usage of such a policy.
Policy & Procedure Language Changes – the Committee recommended several amendments to the Policy and Procedures manual to align current practices with the official manual language.
Investment & Strategic Cash Reserve Policy – the Committee will be drafting a Strategic Cash Reserve Policy for the Board's consideration at the January Board meeting.
Budget – the Committee will present budget packets to the Board at the January Board meeting. We intend to modify the process from past years.
The Finance and Audit Committee plans to meet again in January to finalize the Strategic Cash Reserve Policy and Budget Materials/Process. I want to thank my very hard working committee members who drove a long distance and took a whole day to work on these initiatives: Sherry Douglas from Chadron State College and Lisa Gdowski from Central Community College. Please let me or any committee members know if you have any questions.



MEMBERSHIP
by Jodi Vanden Berge
The Membership Committee has had a very busy fall. The membership directory has been updated and is available in PDF format on the website for your use. Another successful Newcomer Welcome was held in Lincoln. The NeASFAA Navigator program will be up and running soon, please see the article in this Newsletter for details. Even though we are off to a great start we are not done yet! At the spring conference we will be providing a new, up to date pictorial directory, so please don't be shy when we start requesting photos. Last but not least please welcome the following organizations to NeASFAA: NorthStar – T.H.E. Loan Program, College Loan Corporation and FACTS Tuition management.


The Newcomer Welcome held at the NeASFAA Conference in Lincoln on November 7th was very successful. Cindi Ramaeker emceed and she made it a most enjoyable experience for all. We ended up with several (5 in fact) late registrants for a total of 11 newcomers. Thanks to Lydia Thompsen's and Renee Besse's foresight, we had enough materials. We also had enough guides (although we were pulling people out of the halls) for each newcomer. The feedback from both newcomers and the guides was that they really enjoyed the experience. Thanks to all guides and those who put together a great welcome!


Announcing the NeASFAA Navigator Program!
The Membership Committee, under the direction of Jodi Vanden Berge, is planning to implement a new program which we are calling the NeASFAA Navigator Program. This program is designed to welcome/assist those NeASFAA members with 1 year or less of financial aid experience. We hope to help them become more familiar with and "navigate through" our state organization. Since we kicked off the Fall Institute with the Newcomer's Welcome for first-time conference attendees, we decided to implement the Navigator Program following the conference.
In the next couple weeks we will be matching Neophytes with a NeASFAA Navigator from the same sector to further help them establish a strong NeASFAA network. From our review of the NeASFAA Directory, there are a total of 9 NeASFAA Neophytes. Each individual will receive a NeASFAA Welcome Packet and a phone call from a Navigator in early December.
Attached for your convenience is the NeASFAA Navigator description which the Board of Directors previously approved:
NeASFAA Navigator Program
Mission Statement:
To welcome new financial aid administrators (neophytes) into NeASFAA, to promote involvement/leadership within NeASFAA, and to help them "navigate" their way through NeASFAA to find the resources they need to do their jobs. Neophytes are defined as those with less than one-year experience.
Action Plan:
Identify neophytes through responses from the newly enhanced Membership Application Form. Solicit a navigator for each neophyte. Ask navigators to contact their neophyte to introduce themselves, welcome them to NeASFAA, explain intent of the Navigator Program, and ask them to watch for their Welcome Packet. Member of committee mails "Welcome Packet" to neophyte. Packet contains: pictorial directory, upcoming training dates, history and mission of NeASFAA, website information, instructions for subscribing to listserv, listing of Board of Directors and Committee Chairs, NE College Help information. Navigator will make follow up contacts throughout the year (either monthly or bi-monthly) to establish relationship and offer NeASFAA assistance.
Note:
It is not our intent to offer regulatory assistance or training through this program, but rather to serve as a resource to help steer new folks in the right direction to ask their questions.
For more information about the NeASFAA Navigator Program, please contact Jodi Vanden Berge (EducationQuest) or Cindi Ramaeker (EDUCAID).
MOVERS AND SHAKERS
Movin On...

Daphne Hall recently accepted the position of Vice President, College Planning at EducationQuest Foundation.

We received the following notice from the Dept. of Ed - KC
"U.S. Department of Education's Kansas City offices are in a new location!
For ten years the U.S. Department of Education in Kansas City, MO (Region VII) was located on the North side of Kansas City near the Kansas City International Airport.
On October 21 all Region VII Education employees reported for duty at a newly renovated federal building located at 8930 Ward Parkway. Our new location is on the Missouri/Kansas state line in south Kansas City, just south of the Ward Parkway Shopping Mall.
In January our training schedule will begin in full force at the Ward Parkway location. There will be numerous exciting training opportunities for you this year, including: Delivery System/Back to Basics, Cash Management, Non-traditional programs, Application Processing EDExpress, Pell EDExpress, and Direct Loan EDExpress.
Finally, we would like to thank you for what you do every day. Your dedication to education is commendable and, though you don't hear it enough, it means the future to many Americans. "
U.S. Department of Education, Region VII
Federal Student Aid
8930 Ward Parkway, Suite 2028
Kansas City, Missouri 64114

Case Management's Main Number: (816) 268-0410
Direct Loan School Relations Office: (816) 268-0444


Stork Bytes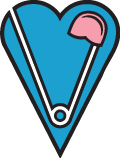 Stacey and Todd Musil are the proud parents of a new baby boy. Jacob Todd was born November 5th weighing in at 8 lbs. 5 oz. and 21.5 inches long. The whole family is doing great and Stacey says that Jacob has quite a set of lungs already.
Ellyn Grace Hall was born November 7th and weighing in at 6 lbs. 2 oz and 18.5 inches long. Her parents are Daphne and Lynn Hall. As many of you may know, Ellyn required surgery shortly after birth. We're happy to report that she is now doing well and breathing on her own. Big brother, Ethan, was able to hold his baby sister for the first time on November 24th.


Promotions
Amanda Blue has been promoted to Assistant Vice President. She will be working with the NSA lenders and school representatives in Kansas and Nebraska. She is in the Nelnet Campus Solutions Department.


A Special Note
For all who attended the Decentralized Training session, thank you for helping me through my nervous state. Your help allowed me to regroup and continue the presentation. Also, thank you for giving me the opportunity to be the trainer as I have really enjoyed the experience.
Shareen Cundall
Doane College
NSLP UPDATE
SCHOOLS AND LENDERS CRUISE WITH NSLP
by Mark Krings
National Student Loan Program
At NSLP's November 6 workshop in Lincoln, held in conjunction with the NeASFAA conference, schools and lenders cruised through information they can use to help their students and celebrated NSLP's 16 years as a partner in Nebraska's student loan industry.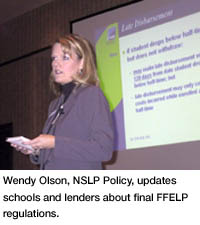 Leesa Sorensen and Wendy Olson of Policy and Planning started the day with Ready, Set…Regs to give schools and lenders a first-in-the-nation review of new FFELP regulations that include changes to entrance and exit counseling, late disbursement, and deferments.
NSLP's Debt Management Director, Connie Kent, presented Put a Dent in Defaults and applauded schools for their default prevention efforts, as evidenced by Nebraska's 4.7% default rate. Connie provided schools with online debt management resources they can use to help their students manage their debts and repay their student loans. She also debuted NSLP's new Loan Education Products website at www.nslp.org/lep.htm where schools can find online resources organized according to the student's life cycle. "The online resources are very helpful," said Terri Graham, Associate Director, Hastings College. "Now I know where to find information to help my students, without spending hours researching the web."
Sharon O'Neal's Performance Products presentation gave schools and lenders an overview of Mapping Your Future's online student loan counseling, Loan Wizard, repayment information, career planning resources, and online chats that are available.
After the checkered flag signaled the end of the workshop, schools and lenders joined the winners' circle as NSLP President Nancy Wiederspan thanked them for their partnership over the past 16 years. Workshop participants celebrated with lunch and a Sweet 16 memento. "Thanks a million for a billion," said Nancy. "Your support helped make our 16th year a sweet success."

FEEL THE EXCITEMENT

Named after our 'Feel the Excitement' Award, this column is designed to highlight NeASFAA members' participation in public/community service outside of the financial aid community. Intended to be a cross between 'Getting to Know You' and 'Movers and Shakers', we hope this article will provide information to assist all of us in making nominations for the 'Feel the Excitement' Award.
If you know of a NeASFAA colleague active in public/community service beyond the financial aid community, please notify Wendy Cobb at cobb@clarksoncollege.edu.
It is time again to recognize our fellow NeASFAA members in their hard work! This issue we are recognizing two members that have showed dedication towards their work, to NeASFAA, and to the community.

DID YOU KNOW . . .
Steve Millnitz, Director of Financial Aid at Central Community College, knows how to make the best of his time. Current Community Service Activities (those without financial compensation) include:
Tom Osborne Teammates - Mentor for a Junior High student

Trainer for the Stephen Ministry program at his church

Junior Achievement instructor at a local elementary fifth grade class

Facilitator for the Grand Island community ad hoc Odor Committee (it's a smelly business)

Assistant director for Grand Island Senior High's competition one-act play

Presenter at the Nebraska Speech Association's annual fall conference in October

An elder at First Christian Church in Grand Island
Along with the above activities, Steve finds the time to volunteer on NeASFAA's committees and any other duty that needs to be done. We appreciate all the hard work and time Steve contributes to our community as well as financial aid. Keep up the great work Steve!


Pam Shelton, Director of Student Financial Services at Clarkson College, tutors students who are working on their adult basic education and GED testing. She works two nights a week during the school year. She enjoys working with them and watching them improve.
Thank you, Pam, for taking the time to assist kids and adults. Your dedication to our community is greatly appreciated!


Please email Wendy Cobb at cobb@clarksoncollege.edu with information about the volunteer work you, your co-workers or any NeASFAA members currently do or have done. We want to recognize everyone for all of there hard work that you do!

USA FUNDS UPDATE
Bright Ideas: Starting a Debt-Management Advice Column
by Larry Viterna
USA Funds Services Regional Director
Looking for another way to get debt-management information to students? Consider publishing a debt-management advice column in your school's student newspaper. Here are a few tips about how to start one:
Identifying contacts
Find out which office on campus is responsible for supervising the student newspaper publishing process. This could be the Student-Activities or Student-Affairs office. If your school offers a communications or journalism major, faculty in one of those departments could be involved.
Making contact and building a relationship
Once you determine whom to contact, make plans to reach out to the contact at the student newspaper. The beginning of the school year, before the student newspaper format becomes too set in stone, is the ideal time to contact the newspaper editor and propose your idea for a column. It is likely that the editor will be a student. In order to build a relationship, consider taking the editor out to lunch. Take this opportunity to become familiar with the newspaper's previous features to make sure that what you are proposing fits the newspaper's style. Consider requesting a set amount of space in the paper and a particular location so students can begin to develop expectations about where to find the column. Keep in mind the size and time constraints of your particular staff. If a weekly column is too overwhelming, consider proposing bi-weekly or monthly intervals.
Content considerations
This column is an ideal place to choose topics that are relevant to the time of year, such as budgeting at the beginning of the year, credit-card information during the holidays, financial-aid application information in the fall, and exit interview reminders in the spring. One strategy to keep content fresh would be to focus on actual student questions that the financial-aid staff receives throughout the year.
Additional sources of information for your advice column include your own institutional policies and procedures and general advice based on experience. You also could include information from USA Funds®, Life Skills course and USA Funds' online Best Practices Manual; visit www.usafunds.org for more information.
Spin-offs
If this column is well received, consider approaching the Admissions and Alumni offices to write similar columns for prospective students and their parents, and recent graduates. Articles addressing savings, budgeting and the entrance-interview process are ideal for prospective students and parents, while budgeting and loan-repayment issues are ideal topics for recent graduates. If the school has electronic newsletters that are sent to these groups, inserting an advice column or article would be a simple process.
For more debt-management tips and techniques, visit USA Funds' Web site, at www.usafunds.org, or contact your debt-management consultant, Carol Buchli, toll-free at (866) 497-USAF (8723), Ext. 7877, or by e-mail to cbuchli@usafunds.org.

Leadership Book Review
by Carol Rapstine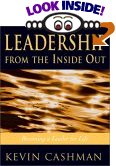 "Leadership From the Inside Out – Becoming a Leader for Life"
by Kevin Cashman (1998)
How would you like to take a reflective journey that will encourage an awakening in you that will enhance your effectiveness as a leader? If so, then you need to find a copy of Kevin Cashman's book, Leadership From the Inside Out!
Cashman explains that leadership cannot be separate from the person – it is not an external event. It is not something we do; rather, leadership comes from within us. As he states, "we lead by virtue of who we are." This book will take you on a reflective journey down seven pathways to the mastery of leadership from within.
The seven pathways:
Personal Mastery is the ongoing commitment to unfolding and authentically expressing who we are.

Purpose Mastery is the ongoing discovery of how we express our gifts to add life-enriching value to the world.

Change Mastery involves embracing the purposeful learning contained in the unending, creative flow of life.

Interpersonal Mastery is the dynamic blending of personal power with synergy power to create value and contribution.

Being Mastery is connecting with the silence and peace of the innermost depth of one's character to support more dynamism, effectiveness, and contribution.

Balance Mastery is the dynamic centering of our life to build resilience and to enhance effectiveness and fulfillment.

Action Mastery is the ongoing commitment to creating value through enhanced authenticity and self-expression.
As Cashman takes you down each of these seven pathways, he encourages you to reflect on the principles, qualities and characteristics you have within you and how they relate to your leadership abilities. After reading this book and thinking about the different mastery pathways in your own life, you should have an awakening experience into the kind of leader you are or want to be.
I would highly recommend this book for anyone who wants to get in touch with the leader you are and have the potential to be!
This book is available at amazon.com. You can look at an excerpt and the table of contents of the book if you are interested in getting a better idea of how the book may help you.
Brought to you courtesy of the Special Projects Committee – It is our commitment to NeASFAA to encourage leadership development within each of our members. We hope that you find this book review helpful.

Quarterly Quote
"Christmas is not a time nor a season, but a state of mind. To cherish peace and goodwill, to be plenteous in mercy, is to have the real spirit of Christmas."
--Calvin Coolidge